Before Purchasing a Hinge, Keep in Mind the Following Factors:
How Much Does Your Gate Weigh?
What Hinge Do You Need For a Wood, Vinyl, Or Aluminum Gate?
Do You Prefer A Weld-On Or Bolt-On Design?
How Much Maintenance Would You Like To Do On Your Hinge?
Do You Need Special Features For Your Hinge?
If you are unsure how to answer these critical questions before buying a hinge, this guide will set you on a better buyer's journey.
How Much Does Your Gate Weigh?
Remember that if your gate weighs over 1,000 pounds, you'll need something heavy-duty. The D&D Shut It BadAss series of hinges is the recognized leader in industrial-grade hinges for heavy gates. Most of these hinges have zinc or powder-coated black steel finishes. These materials will last many years outdoors and will not deteriorate under adverse weather conditions. Remember, your gate weight is not the only factor when considering the hinge you'll need. If you already know that children will hang off the gate or you experience a lot of hurricane-type rainy seasons, you may need a hinge that can handle more weight than the gate. Keep all these points in mind when looking for a hinge.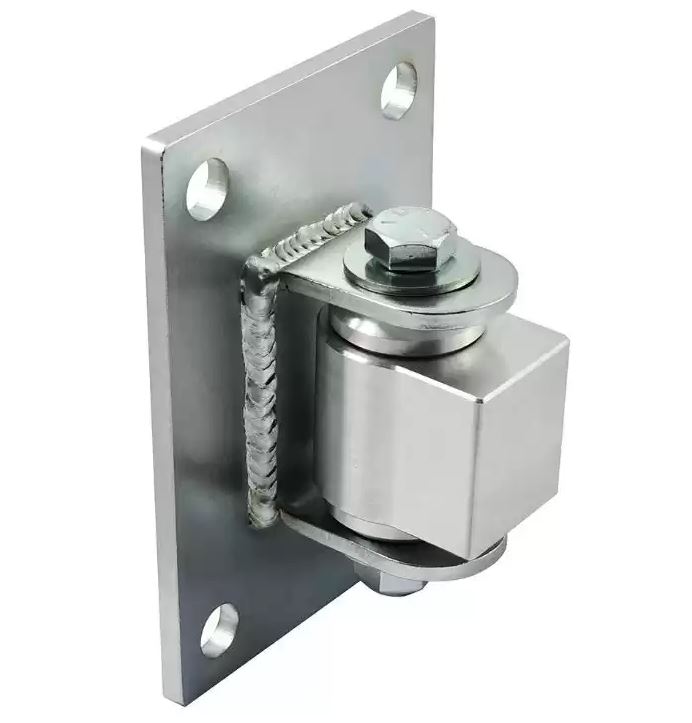 What Hinge Do You Need For A Wood, Vinyl, Or Aluminum Gate?
While you may like the look of one hinge, if it is made for a wood fence and you have an aluminum gate, you'll need to choose another option. However, the good part about most vinyl hinges is that they also are compatible with wood. For example, the D&D steel self-closing tension hinge is a stainless steel hinge that works for vinyl and wood. If you are searching for gate hinges that will fit on aluminum or metal gates, the D&D line of TrueClose Gate Hinges has reliable hinges that fit a variety of gate materials.
Do You Prefer A Weld-On Or Bolt-On Design?
Another good question to narrow your search is to look for the design you prefer. If you can weld on a hinge and select a more permanent design, weld-on hinges are a better option. If you are looking for a less permanent solution for a gate that will need to be moved or do not feel like completing a more extended welding task, bolt-on hinges are for you.
How Much Maintenance Would You Like To Do On Your Hinge?
Depending on your hinge, you may need to do annual maintenance on the hinge or absolutely none. Most of the D&D Shut It BadAss series hinges will not require any maintenance at all! You'll need to lubricate the joint and use a grease gun with all-purpose grease for hinges that do. While greasing a hinge should not take too much time, if it's difficult to access the location of your gate, a no-maintenance hinge is the better option.
Do You Need Special Features For Your Hinge?
If your gate is installed to protect children and pets from getting inside a pool, you'll need a self-closing hinge according to BOCA safety standards. Pool gates require some of the most important hinges and latches to ensure municipality safety standards.
If you don't have a pool but will set your gate on an upward or downward slope, you'll need an
uphill bolt or weld-on steel barrel gate hinge
. These hinges work with gates with a significant incline or decline. Think about the special circumstances of your gate and what your dream setup would be for a hinge.
Choose A Quality Heavy-Duty Hinge For Your Gate With D&D Hinges
D&D Technologies is a company created in Sydney, Australia, and is the top maker of hinges that professional contractors and homeowners know will last. When you purchase a D&D hinge, you know your hinges are ISO tested and certified with the strictest standards. D&D has won many design and safety awards that make their hinges the top choice for many.
---
Still trying to decide on the perfect heavy-duty hinge for you? Contact our helpful sales representatives if you have any other questions. Our site offers an extensive array of D&D hinges, so you're bound to find what you're looking for.
Contact Us