Details
D&D SureClose Flush Mount Self-Closing Thrust Bearing Gate Hinge-Closer, 57SF AT90 S - 75057223M
The SureClose Thrust Bearing Hinge Closer Series is a concealed hydraulic gate closer. It is speed adjustable using the the enclosed adjustment tool and specially designed to never leak hydraulic fluid. It is one of the safest hinge closers available on the market today and holds the ability to close quickly with no resistance in emergency situations. This delicate closing technology also protects the latching and locking mechanisms, guaranteeing at least 500,000 open/close cycles and a 1,500 lb. point load.
Features:
Hinge Type: 57SF AT90 S
Self-Closing From: 88°
Maximum Opening Swing: 88°
Pool/Child Safety: YES
Hinge Gap: 1/2"
Fence Post Size: 2"+
Mount Type: Flush Mount
*Please Note: Gate will not hold open at 90° (making it okay for use on pool and child safety gates). SureClose SF models require a separate gate stop to be installed to prevent the gate from being forced past 90º. Recommended opening setting is 85º to take into consideration possible installation abnormalities. To properly install this gate closer, you will need to purchase the D&D GateStop - Soft, Quiet Gate Closure - TCGS3, sold separately. Absence of a gate stop will void warranty on this product. D&D recommends installing the gate stop at the bottom of the fence post if gate is lower than 84" (210cm).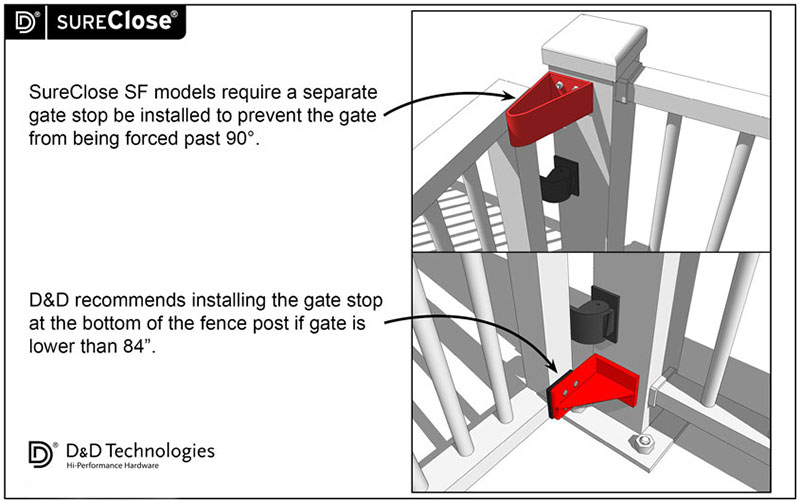 **Please Note: Post Mounting Brackets Sold Separately. Recommended Model: D&D Model 7515
&
| SKU | Model | Type | Bracket | Self-Closing From | Max Gate Swing | Fence Post Size Minimum | Pool/Child Safety** |
| --- | --- | --- | --- | --- | --- | --- | --- |
| 75001213 | SM AT90 S | Hinge | Aluminum Screw-on | - | 180° | 2" (50mm) | - |
| 75057213m | 57 AT90 S | Closer & Hinge | Aluminum Screw-on | 85° | 180° | 2" (50mm) | - |
| 75057223m | 57SF AT90 S | Closer & Hinge | Aluminum Screw-on | 90° | 90° | 2" (50mm) | Yes |
| 75108213m | 108 AT90 S | Closer & Hinge w/ Final Snap Action | Aluminum Screw-on | 85° | 180° | 3" (76mm) | - |
| 75108223 | 108SF AT90 S | Closer & Hinge w/ Final Snap Action | Aluminum Screw-on | 90° | 90° | 3" (76mm) | Yes |
| 75001214m | SM AT90 W | Hinge | Steel Weld-on | - | 180° | 2" (50mm) | - |
| 75057214m | 57 AT90 W | Closer & Hinge | Steel Weld-on | 85° | 180° | 2" (50mm) | - |
| 75057224m | 57SF AT90 W | Closer & Hinge | Steel Weld-on | 90° | 90° | 2" (50mm) | Yes |
| 75108214m | 108 AT90 W | Closer & Hinge w/ Final Snap Action | Steel Weld-on | 85° | 180° | 3" (76mm) | - |
| 75108224m | 108SF AT90 W | Closer & Hinge w/ Final Snap Action | Steel Weld-on | 90° | 90° | 3" (76mm) | Yes |
Additional Information
| | |
| --- | --- |
| SKU | 75057223M |
| Series | SureClose |
| Max Gate Swing | 90° |
| Hinge Gap | 1/2" |
| Fence Post Size | 2"+ |
| Mounting Method | Bolt-On |
| Body Material | Aluminum |
| Mount Latch | Flush Mount |
| Max Gate Weight | 180 lbs. |
| Manufacturer | D&D Technologies, Inc - SHUT IT GATE HARDWARE |
You may also be interested in the following product(s)